Round Rio Rancho
Interesting places to go, things to do, local businesses and real estate happenings around Rio Rancho, NM

Round Rio Rancho

Community
Food
Government Services
Local Businesses
Neighborhoods
Recreation
Schools
Things to Do
Up & Coming
Worship
Albuquerque Metro

Videos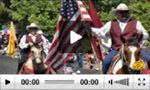 Real Estate

Buying a Home
Owning a Home
Relocating
Selling a Home

We're Keeping it Local!
Rio Rancho has a lot going for it: Great weather, with mild summers and winters, and gorgeous spring and fall seasons, responsive city government, good schools, top notch police and fire services, excellent recreation programs and facilities, affordable housing, and of course, some of the friendliest people you'll ever meet!
On this web site you'll find lots of articles and videos of local events, things to do, places to eat, shop, and worship. You'll meet interesting individuals, government representatives and community leaders. We'll even take you with us on day trips outside the city to places you might enjoy. We also have lots of local real estate information, including neighborhood profiles, with interviews of actual residents of that neighborhood.
We encourage you to do business locally whenever you can, perhaps with some of the firms featured here. Money spent locally stays local. By shopping in your community, you help to create jobs, fund more city services (without raising tax rates or adding new taxes) and promote community development.
We're constantly adding fresh and interesting videos and articles for your enjoyment. We hope you'll enjoy your time with us, and that you'll check back often. Thanks!